Anthony Jackson. Patriot. Spy. Widower. Still reeling after the death of his wife, Jackson is numbly training antigovernment troops. Confident that his role in political affairs has dwindled to being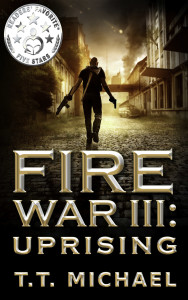 a glorified shooting teacher, Jackson is slowly trying to piece his heart back together. Until the call comes. The rebels are far from done with Jackson, and this time the promised reward is big and juicy: the
Presidency.
As the world slowly falls apart, men fight and men die, and Anthony Jackson cannot simply watch. Something has to change, and someone has to change things, and deep down, Jackson knows that he's the only man that can do the job. But as cities fall, the eternal question continues to burn in his mind: just who can he really trust?
In a world of lies and secrets, where even the ones you love can betray you, Jackson must find right and justice. Only then can he lead the country that he loves. If he survives that long.
---
5.0 out of 5 stars Fire War III is an excellent thriller.
By Lee Gimenez on September 19, 2016
Format: Kindle Edition Verified Purchase
Fire War III is an excellent thriller. Part of the Fire War trilogy, this novel is a political and military thriller set in the near future (the later part of the 21st century). A real page turner, this book is hard to put down. Good action scenes, pacing, and vivid settings, with plenty of tension and conflict, something I, as a avid reader of thrillers, enjoy. You see the action through the eyes of the main character Anthony Jackson, a military man, a spy, and a widower who still grieves over the loss of his wife. The book is also a political thriller, and it raises good questions about liberty, personal security, personal freedoms, and dictatorships – what we sometimes have to give up to obtain something else.
Overall a great read.